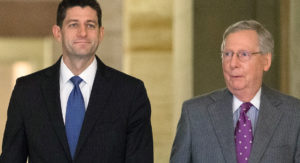 This is outrageous, yet all too predictable.
As it turns out, illegal aliens will get refundable tax credits (ie cash payments) as part of the Republicans' phony Obamacare "repeal" bill.
From Reuters:
Some conservatives in Washington were fuming on Tuesday after an Obamacare rollback bill was tweaked by Republican leaders to delete a provision meant to crack down on illegal immigrants getting federal healthcare insurance coverage.

The development posed another problem for Republican leaders in the U.S. House of Representatives and President Donald Trump, who are trying to win congressional approval of the wider bill, the first big legislative test for Trump since taking office.

The provision would have allowed the Treasury Department to access data at the Department of Homeland Security to verify that healthcare tax credits went only to U.S. citizens and legal permanent residents, not to illegal immigrants.






In a largely procedural move, it was dropped from the bill after the Senate Parliamentarian determined that the Senate Finance Committee, which handles tax credits under the bill, does not have purview over the Department of Homeland Security.

Republican Representative Lou Barletta issued a statement on Monday evening, after the change was made, saying he could no longer support the bill, citing the obscure provision.

"I am concerned that the bill lacks sufficient safeguards for verifying whether or not an individual applying for health care tax credits is lawfully in this country and eligible to receive them," said the Pennsylvania lawmaker.