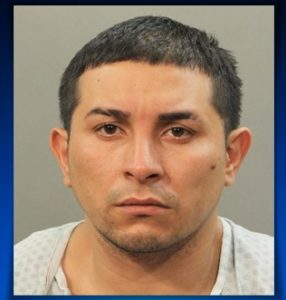 Every single day there are multiple stories of horrendous crimes being committed  by people who should not even be in this country. Why?
Answer: Because the Left has intentionally opened the floodgates to allow unfettered immigration, both legal and illegal, for the sole purpose of importing an underclass of poor and uneducated people to vote Democrat. Period.
From Breitbart:
An MS-13 gang member from El Salvador is facing a possible life sentence after allegedly raping a 2-year-old girl, stabbing her mother, and stabbing another woman.

The Salvadoran national, Tommy Vladim Alvarado-Ventura, 31, pleaded not guilty in a Hempstead, New York courtroom on Thursday. The judge ordered the four-time deported criminal alien held without bond, CBS News reported.






The incident reportedly began when Alvarado-Ventura got into an argument with a woman over a marijuana deal. The argument spilled over into the parking lot where he allegedly stabbed her. She suffered a collapsed lung. Officials have not released her name.

After stabbing the woman, the MS-13 gang member returned to an apartment where the two-year-old girl lived with her mother. The mother was at work at the time, acting Nassau County Police Commissioner Thomas Krumpter told reporters.

At that point, he allegedly sexually assaulted the little girl before the mother returned home. When she arrived at the apartment and discovered her daughter's condition, an argument broke out, and Alvarado-Ventura stabbed her. She managed to barricade herself in another part of the apartment and called the police for help.

Police arrived to find the Salvadoran national asleep. They took him into custody without incident.