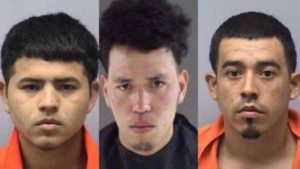 Another day, another horrendous crime committed by an illegal alien. In this case, three illegal aliens!
From Roanoke.com:
Three Salvadoran MS-13 gang members have been charged with second-degree murder in relation to the death of 17-year-old Raymond Wood, Bedford County Sheriff Mike Brown announced Friday afternoon.

Victor Arnoldo Rodas, 19; Jose Coreas-Ventura, 21; and Lisandro Posada-Vazquez, 24, have been arrested and charged with second-degree murder, Brown said during a news conference at Central Virginia Community College's Bedford campus.






All three are undocumented immigrants and were arrested by U.S. Immigration and Customs Enforcement on Tuesday after initially being detained by the Bedford County Sheriff's Office, according to an ICE spokesperson. Rodas and Posada-Vazquez had been living in Lynchburg.