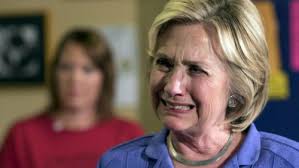 Hillary Clinton is still out making excuses for her embarrassing defeat last November.
What does she believe to be the main reason for her loss? Well, it's because she is a woman, of course!
From Yahoo:
Hillary Clinton said Thursday that misogyny "certainly" played a role in her bruising defeat to Donald Trump in last year's US presidential election, giving her first public interview since that shock loss.

"I don't know that there is one answer," she told the Women in the World Summit in New York when asked why a majority of white women voted for a Republican who had boasted of groping women.

"Certainly misogyny played a role, I mean that just has to be admitted," added the former secretary of state, who was treated to an ecstatic welcome and standing ovation from the crowd.