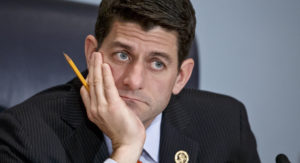 Under the leadership (ahem) of House Speaker Paul Ryan, House Republicans have delayed (yet again) a vote on their phony Obamacare "repeal" bill, which of course does not repeal Obamacare care at all.
From Politico:
House Republican leaders on Thursday delayed a vote on their Obamacare repeal bill until next week at the earliest, denying President Donald Trump a major legislative victory during his first 100 days in office.

Speaker Paul Ryan and his top lieutenants decided during a late-night huddle in the Capitol that they still do not have the votes to pass the stalled health-care legislation. At least 15 House Republicans remain solidly opposed to the bill, with another 20 leaning no or still undecided, according to GOP lawmakers and aides.






House Republicans can only lose 22 votes.

"We are not voting on health care tomorrow," Majority Leader Kevin McCarthy (R-Calif.) told reporters upon emerging from the meeting. "We're still educating members."

White House officials, after striking a deal with conservatives, had publicly raised expectations that the vote would occur this week. And they privately pushed Ryan (R-Wis.) to hand Trump something he could tout as a major legislative victory before Saturday, his 100th day in office.