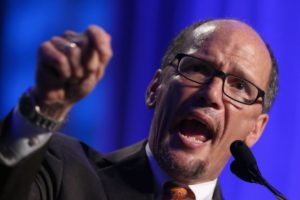 If you hold yourself out as a "Pro-Life Democrat," then you must be one of the more stupid people on the planet.
I made this exact point only 9 days ago with the following comment:
If you are a Pro-Life Democrat, there is a good chance that you are the most stupid person on the planet.

— Mark Romano (@TheMarkRomano) April 21, 2017
Thanks, Tom Perez, for proving me right.
From Breitbart:
Democratic National Committee (DNC) Chairman Tom Perez's announcement that pro-lifers are not welcome in his party has planted the seeds of rebellion among some Democrats and sharpened the view that the party is now primarily defined by its embrace of abortion on demand.

"Every Democrat, like every American, should support a woman's right to make her own choices about her body and her health," Perez said, as the HuffPost reported. "That is not negotiable and should not change city by city or state by state."

Perez's comments came after the DNC decided to support Heath Mello in the Omaha, Nebraska, mayoral race. Mello, it was discovered, had previously voted in the state legislature consistent with his personal pro-life views: