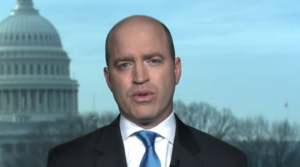 Jeff Mason, President of the White House Correspondents Association, went on Tucker Carlson's show to argue that he an his fellow "journalists" are not liberal hack political activists. As expected, he proves conclusively that they are.
From Fox News:
Fox News' Tucker Carlson faced off with White House Correspondents Association head Jeff Mason Monday night for a heated debate that touched on the weekend's White House Correspondents Dinner and the lack of political diversity in the White House press corps.

The host of "Tucker Carlson Tonight" described the tone of Saturday night's gala as "an extended middle finger to the president – an expression of dislike for the president. And the press shouldn't like or dislike politicians, should it?"

Mason, a White House correspondent for Reuters, responded by pointing out that the press had been given "good access" to Trump and his administration. However, Mason that some of the White House's recent rhetoric amounted to "a clear undermining" of First Amendment rights.
Watch the Video