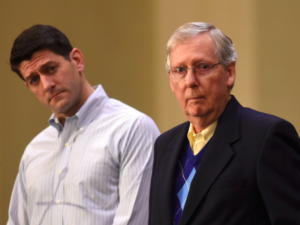 Conservatives betrayed again. Well, at least the Republican Party is consistent!
From The Washington Examiner:
Conservatives are blasting the five-month, fiscal 2017 spending deal written by Republicans and Democrats as nothing short of a "cave in" by the GOP despite its control of both the House, Senate and White House.

The deal, conservatives say, will make the fiscal 2018 spending process even more difficult.

The $1 trillion bill "does little more than kowtow to liberal Democrats and so-called moderate' Republicans," Jason Pye, policy director for the conservative FreedomWorks advocacy group, said Monday.

Republican leaders pointed to the GOP wins in the bill, including a $15 billion increase in defense spending that did not require the typical equal increase in domestic spending.






"We have boosted resources for our defense needs without corresponding increases in non-defense spending, as Democrats had insisted upon for years," House Speaker Paul Ryan, R-Wis., touted.

The bill also includes an unprecedented $1.5 billion for border security, although none of it can be used for a wall or to increase deportations of those who have already crossed the border.

But despite those Republican gains, a GOP aide who has spoken to conservative GOP lawmakers said most view the bill "as a complete concession to Democrats and that it is more or less what we have seen in the past — that they are making the decision to pass it with Democrats rather than Republicans."

Conservatives had hoped a GOP-controlled Congress and White House would finally result in spending reform and policy changes they were forced to abandon while President Obama was in the White House and Democrats controlled the Senate.