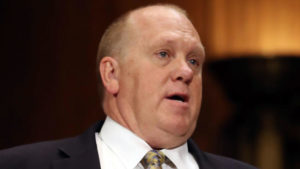 In a marked shift from Obama's open border policies, the Acting Director of ICE, Thomas Homan, says that illegal aliens should live in fear of deportation because the Trump Administration is actually going to enforce our immigration laws.
From The Washington Times:
Illegal immigrants should be living in fear of being deported, the chief of U.S. Immigration and Customs Enforcement said Tuesday, pushing back against a growing sentiment among Democrats on Capitol Hill and activists across the country who have complained about agents enforcing the laws on the books.

Thomas D. Homan, acting director at ICE, said anyone in the country without authorization can be arrested and those who have been ordered deported by judges must be removed if laws are to have meaning.

His comments marked a major shift for an agency that President Obama forbade from enforcing the law when it came to more than 9 million of the country's estimated 11 million illegal immigrants. Unshackled from Mr. Obama's strictures, agents have dramatically increased the number of arrests.

Advocacy groups are enraged and demand leniency for "traumatized" immigrants.