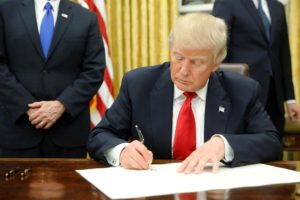 It was "Energy Week" in Washington—but you'd be forgiven for not noticing. The Supreme Court announced a series of major decisions on Monday, slightly easing the injunction on President Donald Trump's travel ban and taking up a big gerrymandering case. Eyes then quickly turned to healthcare where Senate Republicans searched for a compromise between conservatives and moderates, an effort that is proving more challenging than expected. And then they just as quickly turned to Twitter, where Trump made life harder for his own party by launching crude personal attacks against Mika Brzezinski, a co-host of MSNBC's "Morning Joe."






Beneath the chaos, though, the Trump administration continued to turn back Obama-era policies, especially at the Labor Department, which took aim at nearly every major Obama rule in just a few short days. The Agenda is back to document it all. Here are five big policy changes from last week:

Continue reading from Politico.