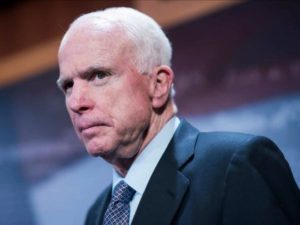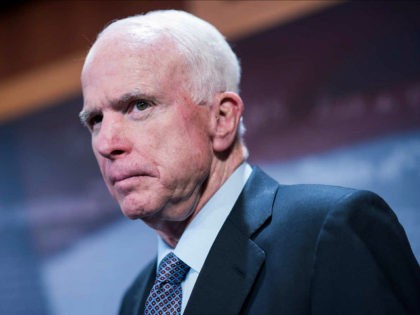 A defiant John McCain is determined to remain a detestable RINO dirtbag despite his diagnosis of brain cancer.
Good for you, John. Don't let cancer change you!
Scumbag.
From The Daily Mail:
Arizona Sen. John McCain, a Russia hawk and occasional Donald Trump critic, blasted a report on the administration's new Syria posture just hours after revealing he had a cancerous brain tumor.

McCain's statement faulted the administration for reportedly ending a covert program begun during the Obama administration to provide arms to Syrian rebels battling President Bashar al-Assad.

'If these reports are true, the administration is playing right into the hands of Vladimir Putin,' the Armed Services Committee chairman said in a statement.

The statement served as a reminder that so long as he is in the Senate, McCain will continue to warn against the administration's proposed move toward Moscow.

The former Vietnam POW also thanked the collection of supporters who sent their encouragement after he revealed the life-threatening diagnosis that was discovered.

"I greatly appreciate the outpouring of support – unfortunately for my sparring partners in Congress, I'll be back soon, so stand-by!" McCain wrote on Twitter.

Close McCain friend Sen. Lindsey Graham of South Carolina said McCain called him three times today seeking updates on his work.

'"No more woe is me." He is yelling at me to buck up. I'm going to buck up,' said Graham, who said on the initial news of his longtime pal's diagnosis that cancer was in for a real fight from McCain.