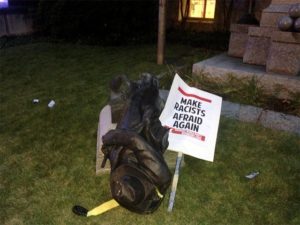 Once again, law enforcement officials watch from the sidelines and do nothing as Left-wing protesters commit crimes in their presence.
A crowd of protesters gathered outside the old Durham County courthouse on Main Street Monday evening in opposition to a Confederate monument in front of the government building.

Around 7:10 p.m. a woman using a ladder climbed the statue of a Confederate soldier and attached a rope around the statue.

Moments later, the crowd pulled on the rope and the statue fell.  One man quickly ran up and spat on the statue and several others began kicking it.






Durham police later said they monitored the protests to make sure they were "safe," but did not interfere with the statue toppling because it happened on county property.

"Because this incident occurred on county property, where county law enforcement officials were staffed, no arrests were made by DPD officers," Durham Police spokesman Wil Glenn wrote in an email statement.

Durham County Sheriff's deputies videotaped the statue being brought down — but didn't stop it from happening.