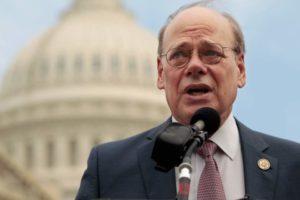 Rep. Steve Cohen announced Thursday that he would introduce articles of impeachment against President Trump following the president's comments about the violent attacks in Charlottesville, Va., saying the president had "failed the presidential test of moral leadership."

"As a Jew and as an American and as a representative of an African American district, I am revolted by the fact that the President of the United States couldn't stand up and unequivocally condemn Nazis who want to kill Jews and whose predecessors murdered 6 million Jews during the Holocaust, and could not unequivocally condemn Klansmen whose organization is dedicated to terrorizing African Americans," the Tennessee Democrat said in a statement.

Cohen wouldn't be the first Democratic lawmaker to formally call for impeaching and removing the president from office. Last month, Rep. Brad Sherman of California, joined by Rep. Al Green of Texas, introduced articles of impeachment over alleged interference in the FBI investigation into former national security adviser Michael Flynn.