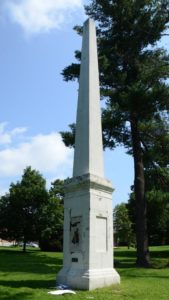 A monument in Baltimore to Christopher Columbus — believed to be the first one erected to the Italian explorer in America — was vandalized.

Baltimore Police said they were looking into the incident, but couldn't say when the damage took place.

A video posted to YouTube on Monday by a user named "Popular Resistance" shows a man striking the base of the monument near Herring Run Park repeatedly with a sledgehammer. Another person holds a sign that reads: "Racism, tear it down." Another sign is taped to the monument reading: "The future is racial and economic justice."

Police are searching for information about the men in the video, as well as whoever filmed it.

"We want to inform people it is a crime to destroy property. And if the person is identified who is responsible for this, they will be prosecuted," said police spokesman T.J. Smith.

The narrator of the video, who says his name is Ty, calls Christopher Columbus a "genocidal terrorist."

The monument, which features a two-story-tall obelisk atop a base, was still standing on Monday morning, but there was a gaping hole in the front and chunks of stone were scattered in the grass. The signs seen in the video were lying on the ground.

The lettering on the front of the monument — "Sacred to the memory of Chris. Columbus, Octob. XII, MDCCVIIIC" — was rendered unreadable.