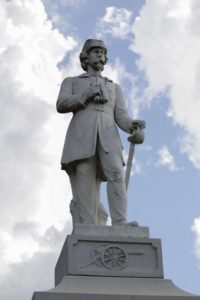 A Houston man has been charged with trying to plant explosives at the statue of Confederate officer Richard Dowling in Hermann Park, federal officials said Monday.

Andrew Schneck, 25, who was released from probation early last year after being convicted in 2015 of storing explosives, was charged in a criminal complaint filed in federal court, Acting U.S. Attorney Abe Martinez said in a statement Monday.

Schneck was arrested Saturday night after a Houston park ranger spotted him kneeling in bushes in front of the Dowling monument in the park, Martinez said.

When confronted Saturday night in the park, he tried to drink some of the liquid explosives but spit it out, officials said.

The ranger then asked if he planned to harm the statue, and he said he did because he did not "like that guy," according to a sworn statement submitted in federal court by an FBI agent investigating the case.

Schneck was holding two small boxes that included a viable explosive, a timer, wires connected to a homemade detonator, a battery and an explosive compound, according to the statement. He told law enforcement he had other chemicals at his home on Albans Road near Rice University.

Federal authorities said one of the tubes contained nitgroglycerin and hexamethylene triperoxide diamine, HMTD, a "highly explosive compound" used as a primary explosive. Nitroclycerin, in its purest form, is a contact explosive.

"ln its undiluted form, [nitroglycerin] is one of the world's most powerful explosives," according to the statement.

Schneck was arrested about 11 p.m. Saturday in the park, a source said, following a day of protests that drew hundreds of people to Sam Houston Park protesting a Spirit of the Confederacy statue. The Saturday event also drew counter-protesters.