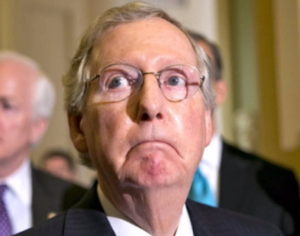 The approval rating of Senate Majority Leader Mitch McConnell (R-KY) has plummeted to just 18 percent, a survey from Public Policy Polling has found.

The poll, which surveyed 645 Kentucky voters, found that just 18 percent of respondents approved of McConnell's current performance, compared to 74 percent who disapproved. Seven percent of people said they were not sure.

McConnell, who is the longest-serving U.S. Senator in Kentucky history, having represented the state since 1984, was recently criticized by President Trump for failing to pass the healthcare reform bill through the Senate.

***

When asked if there were an election for the U.S. Senate today, whether they would vote for McConnell or his Democratic opponent, just 37 percent of respondents said they would support McConnell, compared to 44 percent who said they would vote Democrat. He is next up for re-election in 2020.