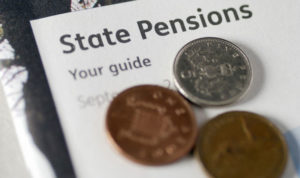 We literally have millions of unnecessary government employees administering laws and regulations which are completely outside the bounds of our Constitution. If that weren't bad enough, we are paying them billions of dollars in pensions that many of them will collect for much longer than they ever worked. A government employee who worked for 20 years may collect a pension for 50 years after retirement. That means that in 50 years, taxpayers will be paying the salaries of then-current government employees as well as pensions for people who hadn't done a single day's work for the taxpayers in half a century!
This is madness! This is also a major reason why states and localities are going bankrupt.
From Bloomberg:
Minnesota's debt to its workers' retirement system has soared by $33.4 billion, or $6,000 for every resident, courtesy of accounting rules.

The jump caused the finances of Minnesota's pensions to erode more than any other state's last year as accounting standards seek to prevent governments from using overly optimistic assumptions to minimize what they owe public employees decades from now. Because of changes in actuarial math, Minnesota in 2016 reported having just 53 percent of what it needed to cover promised benefits, down from 80 percent a year earlier, transforming it from one of the best funded state systems to the seventh worst, according to data compiled by Bloomberg.

"It's a crisis," said Susan Lenczewski, executive director of the state's Legislative Commission on Pensions and Retirement.

The latest reckoning won't force Minnesota to pump more taxpayer money into its pensions, nor does it put retirees' pension checks in any jeopardy. But it underscores the long-term financial pressure facing governments such as Minnesota, New Jersey and Illinois that have been left with massive shortfalls after years of failing to make adequate contributions to their retirement systems.

The Governmental Accounting Standards Board's rules, ushered in after the last recession, were intended to address concern that state and city pensions were understating the scale of their obligations by counting on steady investment gains even after they run out of cash — and no longer have money to invest. Pensions use the expected rate of return on their investments to calculate in today's dollars, or discount, the value of pension checks that won't be paid out for decades.