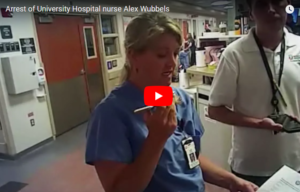 This is an outrage that should viscerally anger every single American.
This is lawlessness. This is thuggery. This is repulsive police behavior more befitting a third-world police state than the United States of America.
Every single one of these low-life cops should be immediately fired and sued into oblivion!
In fact, as a former prosecutor, I content that a very strong case could be made that these dirtbags should be arrested and put on trial themselves!
From Reason:
Shall we ease into our Labor Day weekend with an absolutely repulsive video of a police detective abusing his authority against a completely innocent person for no real justifiable reason? Oh, why not?

Behold, Salt Lake City Police Det. Jeff Payne arresting Nurse Alex Wubbels in July for refusing to violate an unconscious—comatose, actually—man's rights by drawing his blood for the police without any sort of warrant whatsoever:

What Payne did here is patently, inescapably wrong in just about every possible way. Just one year ago the Supreme Court ruled that police must get a warrant or consent in order to draw a person's blood. It's utterly inconceivable that Payne, who is a trained phlebotomist with the police, did not know this. According to coverage from the Salt Lake Tribune, Payne acknowledged that he didn't have probable cause to get a warrant, but nevertheless insisted he had the authority to demand Wubbels draw blood.

But Payne did not have the authority to demand the blood draw and Wubbels was not "interfering" with a police investigation as they insisted at the time. Unsurprisingly, she was released later at the hospital and was not charged with any crime.

In fact, the claim that this blood draw was part of an "investigation" at all adds another layer of revulsion to Payne's behavior. The unconscious man Payne wanted blood from was not suspected of any crime and had done nothing wrong. He was, in fact, a victim of a crime.

Continue reading at Reason